Crowds are gathering in Havana at the start of a two-day remembrance service for Fidel Castro.
There was expectation the former leader's ashes would be on view inside the city's Jose Marti memorial centre but Cubans filing into the museum could view only a few small shrines with medals and military garlands from the revolutionary's career.
Castro's ashes will lie in state ahead of their internment on Sunday, as the country enters its third day of national mourning for the man who dominated and defined the nation.
Reporting from Havana, Sky's Greg Milam said: "It's clear the strength of emotion there is, particularly among the older generation of Cubans, many of them wearing medals who served in wars under their leader.
"There are schoolchildren here too showing perhaps a different set of emotions, as younger people have known the last 10 years without Fidel Castro as their leader."
It comes as a spokesman for Jeremy Corbyn, who praised Castro as "a massive figure in the history of the whole planet", revealed the Labour leader will not attend the funeral.
A long-standing supporter of the Cuba Solidarity Campaign, Mr Corbyn has been criticised for saying that "for all his flaws" Castro will be remembered as a "champion of social justice".
His views have courted controversy due to reports of widespread human rights abuses under Castro's rule. Shadow foreign secretary Emily Thornberry will represent the party at Tuesday's service in Havana.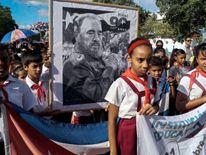 Meanwhile, tens of thousands of high-season travellers have found themselves accidental witnesses to history and in the middle of a sombre city unlike its usual self.
Many museums have closed, and a state-sanctioned ban on live music has shuttered concerts and nightspots, including the famed Tropicana nightclub.
Lined up outdoors at the Coppelia ice cream parlor in downtown Havana, conversations were more subdued than the animated tones for which Cubans are famed.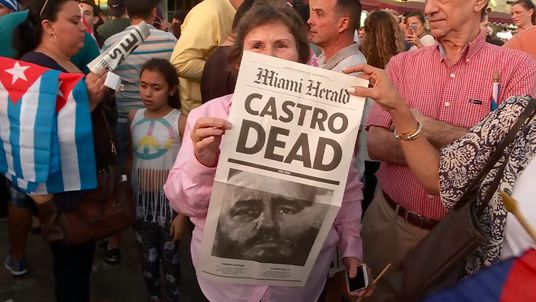 There is a sense that having a good time would be considered disrespectful to the memory of the man who remade Cuba into a socialist state and determined its fortunes from the 1959 revolution until illness forced him from power in 2006.
"We are in mourning because the president died," said Manuel Ruiz, a 57-year-old parking attendant. "He is a man who deserves respect."
---